Kappa Classic 2015 Wrap-Up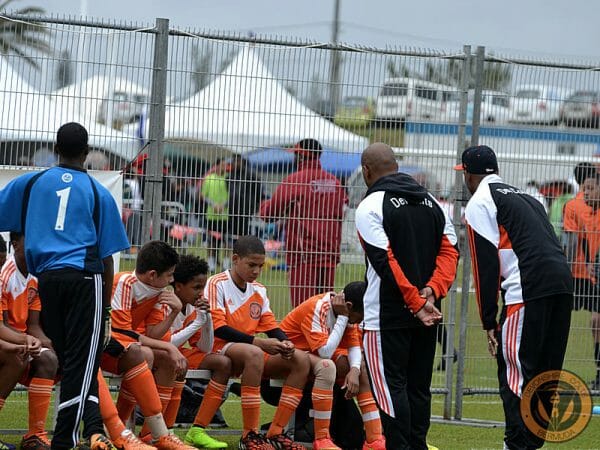 Kappa is an annual 7-a-side youth football tournament hosted by the Kappa Alpha Psi fraternity. The tournament is for boys and girls in the following age categories: U8, U10, U12, U14.
For the past couple of years they have invited a team from the US to participate against local teams. The event is held over three days (Friday—Sunday) with games lasting 25 minutes (2 x 12.5 minute halfs). This tournament has become the largest youth sporting event in Bermuda with most seeing it as the climax of the youth season.
This year's Kappa Tournament, Mar. 20-22, fans and spectators saw a series of Colts' teams compete for the title in their respective divisions. Although Colts didn't succeed in winning a title this year, their performance was remarkable, in which three Colts players were selected as Kappa All-Stars.
Speaking with Eurique Wilkin, Devonshire Colts' U14 Coach, and Colts' Kappa U14 assistant coach for both teams, it was believed Colts stood a good chance at winning this year. "We split the teams up based on age as it was going to be some players last tournament. I believe we had two strong teams, the older team (Dev Colts Whites) could, and probably should, have won the tournament while the younger team (Dev Colts Orange) was a serious challenger," Wilkin said.
"The Orange performed very well and was rewarded by topping their group to move on to the quarter finals in which they lost to Somerset. The Whites were a bit inconsistent even after starting the tournament with a bang by winning 7-0 in their first game. The Whites came second in their group behind the eventual runners-up, Dandy Town. I would lying if I said I wasn't very disappointed to lose on penalties in the quarter finals to the eventual U14 winners, PHC, but that's football.
With wet and windy weather hanging around for the better part of the Saturday events, Wilkin believes other aspects played a role in the performance of his teams. "I don't think the weather had too much of an impact on performance as we try to play a quick passing game normally. The schedule was our biggest challenge in my opinion.
"Dev Colts Orange played one game the Friday night then again at 9am on Saturday morning, and because of their positive results they didn't have to play again until 6pm that evening. Keeping the players focus during that long break was tough."
When asked about his opinion on individual performance, Wilkin was quick to highlight Colts' Kappa All-Stars as formidable opponents of the tournament. "For the Colts Whites' team, it would be hard not to pick the two players that where selected for the Kappa All-Stars," Wilkin stated.
"Jaquari Paynter and Jinaro Johnson definitely stood out, not only by the goals they scored but also by their link-up play with the rest of the team offensively and defensively. Jaquari was powerful and his work rate was relentless while Jinaro was silky smooth and skillful. Both players don't say much but they spoke volumes with the ball at their feet so when they were selected for the all-star team it came as no surprise.
"For the Colts' Orange team, I would definitely have to say Daniel Ball definitely stood out for this team. He had the hunger and drive to perform well in this tournament and he didn't disappoint. Another player I must mention is the captain DeAndre Ball. As the oldest on this team and given the leadership role he thrived and did an excellent job keeping the team organized. I was pleased to see him step up and be a leader. This also showed in his performances."
While the Colts teams showed up and performed to the best of their ability, falling a bit short of the win, Wilkn has a few items on his checklist to add to his preparation regime for next year's tournament. "Moving forward I think there are a few things we could improve on. We could start earlier practicing set-pieces to have them perfected for the tournament. With Kappa being decided by the finer details I think having a few set-pieces in our arsenal could be the key to unlock them tough tight games or to get us that important early goal. Also, working on being more organized defensively if we don't concede we can't lose."
Check out pictures from the tournament on our Gallery page and be sure to visit www.devonshirecolts.com for all Colts related news, media and information.