Colts trio selected as Kappa All Stars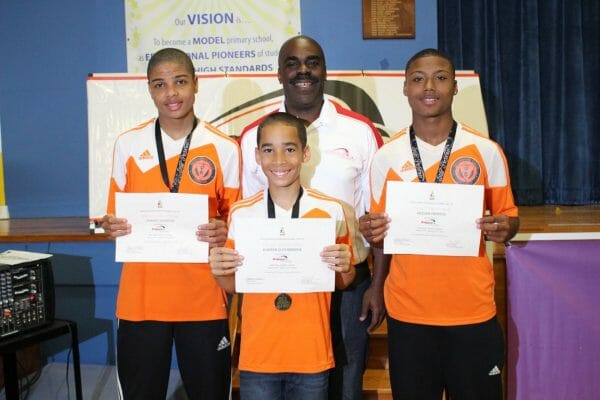 Kappa All Stars – (L-R) Jinairo Johnson, Hunter Outerbridge, Jaquari Paynter with Colts' President, Ray Jones
Skill, sportsmanship and decorum were the prerequisites for selection as a Kappa Classic All Star while three young Colts proved worthy of such a designation.
Jinairo Johnson and Jaquari Paynter, both from Colts U14 team, and Hunter Outerbridge of the Colts U12 team, were all selected as Kappa Classic 2015 All Stars after an impeccable display during the weekend Kappa Classic Youth Football Tournament.
The Bermuda Kappa website says, "During the tournament coaches and field marshals selected players based on their skill, sportsmanship and decorum." Visit Bermuda Kappa's website for scores and results from this year's tournament, as well as a list of all the All Stars.